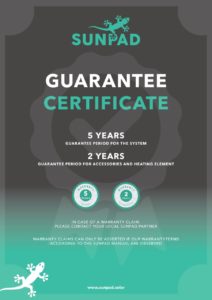 WORLD'S MOST REVOLUTIONARY
SOLAR WATER HEATER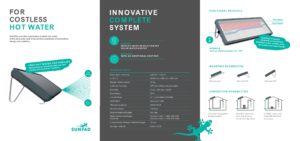 THE SUN. SOURCE OF INFINITE ENERGY AND ORIGIN OF ALL LIFE
sending its warming rays to our planet for billions of years. Nevertheless, it was only a few decades ago that people leaned how to use solar energy effectively for hot water in their homes. And nature shows us the way.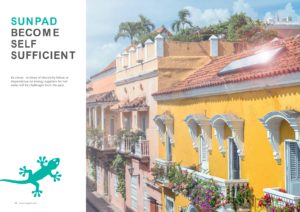 THE GECKO. EVEN BEFORE TAKING IT'S FIRST BREATH, IT HAS BEEN ALREADY LINKED TO THE SUN
Thanks to the heat of the sun, our little gecko came to life and immediately became self-sufficient. It effortlessly climbs steep walls and roofs in search of exposed locations for invigorating sunbaths. Its splendor of colors places it on display in full light.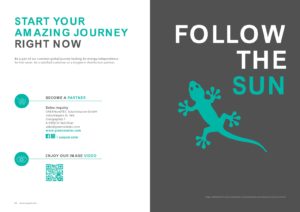 INSPIRATION TRANSFORMES, OUR MASTERPIECE
Inspired by the characteristics of the sun-loving gecko, we have developed this new and revolutionary solar collector for water heating: SUNPAD is less expensive, easier to use, innovative and aesthetically pleasing than any other previous collector.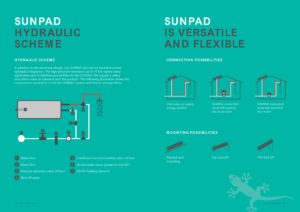 LET'S TALK ABOUT OUR FUTURE
SUNPAD provides sustainably treated hot water at the best price and is the perfect symbiosis of innovation, design and usability.
We contribute to significantly influencing the energy habits of the worldwide population through SUNPAD. And to begin a new approach today as part of tomorrow energy system.
With our intelligent energy solution for your individual needs, we can reduce…
The CO2 emission by one SUNPAD which corresponds to 100 huges planted trees
Your heat energy costs by up to 80% depending on your climatic environment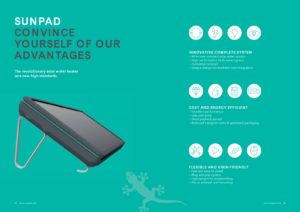 INNOVATIVE AND TECHNOLOGICAL LEADER IN SOLAR THERMIC SOLUTIONS
HOUSING
The shapely exterior housing, which resembles that of an iPad, consists of exturded polypropylene foam (EPP). Due to the excellent insulation effect, it prevents the cooling of the heat transfer tank. Simultaneously, it also adopts the holding function for the cover insulation which is UV resistant and for the solar safety glass.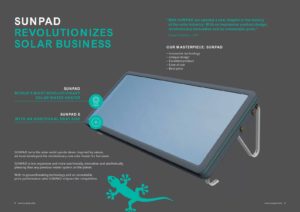 HEAT TRANSFER TANK
The 150-liter steel tank is welded by using state-of-the-art laser technology. The tank is operated without pressure. To protect from corrosion, an anti-corrosion emulsion (SUNPAD protection liquid) has been already filled in the tank when the system is delivered. The special liquid prevents the formation of rust and ensures a long lifetime of the system. The surface of the tank is coated with solar paint and offers an external corrosion protection.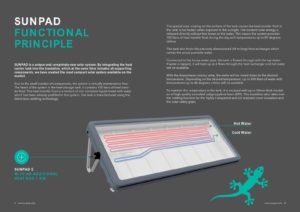 HEAT EXCHANGERS
The heat exchanger in the tank is a ribbed corrugated pipe made of high-grade stainless steel. Precisely dimensioned in diameter and length ensuring the heat exchanger provides optimal heat transfer.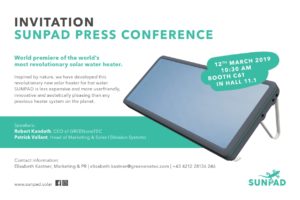 COVER
To protect the tank from external weather influences, it is covered with a single-pane safety glass. This glass, with an extremely high energy transmission, ensures that as much solar energy as possible is transferred to the heat transfer medium. Additionally, there is a UV resistant cover insulation in between, which is made of polycarbonate with insulating bars to keep the heat in the tank.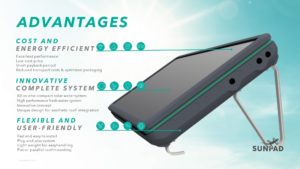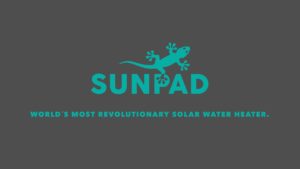 Some of our SUNPAD installations in Egypt
SUNPAD now in Alex West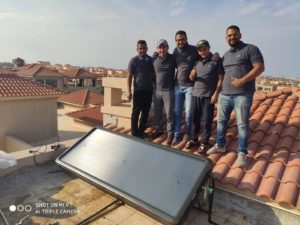 SUNPAD now in Hacienda White North Coast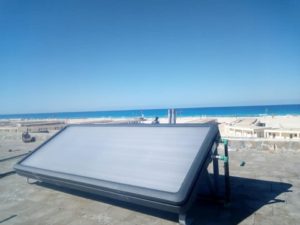 SUNPAD now in Mivida, EMAAR